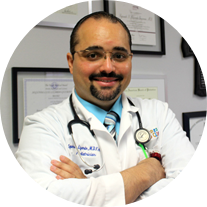 DR. SEGUNDO LIZARDO
DR. SEGUNDO LIZARDO
Dr. Segundo Lizardo was born in the Dominican Republic, a beautiful island located in the Caribbean, in La Vega, a town which is recognized internationally for the organization of the best carnival in the Caribbean.
Dr. Lizardo was raised by his grandmother, Juana Santos in San Francisco de Marcoris, Where she taught him perseverance,hard work and to follow his dreams without causing any harm to others. She then became the most influential person in his life. During his childhood and teenage years he was involved in sports,like baseball, basket ball and most importantly swimming.
During his high school senior year, while working as a volunteer at a local hospital, God guided him towards the road he would later pursue to become a doctor. He enrolled in medical school at Pontifícia Universidad Católica Madre y Maestra in Santiago de los Caballeros, where he was recognized for academic excellence, and participated as a teacher assistant, graduating magna cum laude with a degree of Doctor in Medicine in 1998.
After graduating from medical school Dr. Lizardo joined his medical school faculty as assistant professor until 2003 when he started his medical residency at Elmhurst Hospital Center, affiliated with Mount Sinai school of medicine Center in New York, graduating in June 2006. Dr. Lizardo is a diplomate of the American Board of Pediatrics, and recently was elected fellow of the American Academy of Pediatrics in recognition for promoting the health of newborns, children and adolescents.
Since August of 2006, Dr. Lizardo and his family moved to Rio Grande Valley and established a pediatric medical clinic in the heart of Mercedes, Texas, where he is actively involved in his community and is a member of numerous prestigious professional organizations. As part of his commitment to pursue excellence in pediatric health care, Dr. Lizardo is seeking Board certification in hospice and palliative medicine. He currently has active privileges at Knapp Medical Center and Doctors Hospital at Renaissance.
Dr Lizardo is assistant professor for the department of pediatrics at the University of Texas Health Science Center at San Antonio, Regional Academic Health Center ( UTHSCSA-RAHC) and also serve as an clinical professor for the University of Texas-Pan American-Physician Assistant program.
Dr. Lizardo married the love of his life Yabrina Rodríguez, MD., with whom he has formed a beautiful family, with their two sons, Luis José and Luis Alejandro. The Lizardo-Rodriguez family has made the Rio Grande Valley their home, and love to spend time together with family and friends.