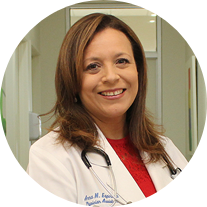 ANNA M. ESPINOZA, PA-C
ANNA M. ESPINOZA, PA-C
Anna M. Espinoza-Garza was born and raised in the Rio Grande Valley. Her memorable teenage years were spent traveling up north as a migrant worker. After graduating from Donna High School, Anna spent several years working as a pharmacy technician in a local Donna pharmacy. In 1991, she began her undergraduate studies at U.T. Pan American in Edinburg, Texas where she became involved in tutoring in science subjects and worked as a biochemistry laboratory assistant. This experience allowed her genuine interest in the medical field to evolve.
In 1996, Anna obtained a Bachelor of Science Degree in Physician Assistant Studies at U.T. Pan American-UTMB Galveston. After graduation, she spent six years in a family practice clinical setting. Since 2002, Anna has worked for RGV Adult & Internal Medicine where she transitioned from Family Practice to Internal Medicine. Anna is now actively practicing Pediatric Medicine at the Mercedes Children's Clinic with Dr. Segundo Lizardo. Anna has devoted most of her years as a physician assistant practicing in Mercedes Texas. She is committed to provide optimal health care to our pediatric, adolescent and teenage community.
When away from her office, Anna is fully devoted to her husband Arnold and her three beautiful daughters; Katerine, Victoria and Liliana.